Hey SHiz!!!!!
I just read that Live nation a concert promoter, and Ticket master are merging. What does this mean?
Buck

Yo Buck
It means that you gonna' pay $150 for lawn seats


---
Dear Mr. Shizz
I do hope my email meet's you in good health, I'm Nerys Williams a U.S. helicopter maintenance supervisor in the 3rd Infantry Division, in Iraq. I am writing to solicit your allegiance as the custodian to an asset value of 10 Million dollars that we are transferring out of the country.
My partners and I are in need of someone we can trust to actualize this venture. The money is from oil proceeds and is legal.
We are moving it through a diplomatic pouch to your house directly or a safe and secured location of your choice through a diplomatic pouch. Can we trust you? Once you receive the funds, you take an awesome reward of 30% then keep our 70%. Your role is to find a safe place where the funds will be deliver. We seek your utmost rationality and confidenciality in this.
If you are interested reply to nerys_william@yahoo.cn then I will furnish you with more details.
Yours buddy
Sgt Nerys Williams
God Bress America!

Yo Nerys
Yo Bro! Let me send you my bank account number and where you can find all of my savings! We's can be best friends!


---
Yo Shiz!!!!
I got too many

zits! What's a good zit killer?
- Shaka

Yo Shaka
Put down the fried pork chops, home skilit. Cut the grease, increase the peace, yo?

---
Dear Mr. Shiz
Thank you for your advice on what to do about all the political blogs in Southeast Texas. You really helped me out a lot.
- Brandon
Yo Bran
It is what i do, dog. it comes down to thinking for yourself 'cause you the only you, you can be. Opinions are like ass

, everybody gots one and some dumb ass muther

have two or three - yeah, that too. yea, see? think for yourself.
---
Hey Shiz
Why are so many people freaked out because President Obama is black?
- Desmond

Yo Desmond
Some people just can't get it out of their head that he is a man... just a man... ain't no antichrist or g-money homeboy. He'll do good. I gots my faith. Some people just ig-nant...

---
Dear Shiz
I may be about to lose my job because of the new ecomomy. Is it considered the same thing to be "downsized", "laidoff", or "fired". And, will my old lady throw me out of the house?
- Barneby

Yo Barneby
Yo, Dog, I feel for ya'. All our monies be as tight as a swiss watchmakers coil spring. Really, dog, it's all about the same unless you make your living off the masses who have to pay or less. Government and utilities always get they payday and we all gotta eat sometime before we get our stimulus package. Life like money is all about balance. If you can't afford it, don't get it. But the hard part is finding a job that will pay you what you are worth - good workers deserve good money an' lots of folks work a hard 40+ hour week with a 30+ paycheck. As long as yoour company don' screw you over, dog, it's all good. As for your old lady, good luck!
---
Dear Shiz
Cable costs too damn much. Now, they want to charge me .99 cents for a paper bill. You belive that

??? TO mail my bill, not including my bill, it's 42 cents for a stamp, 25 cents for an envelope, and 19 cents for a check. You know it's now more than If i go down to the Kroger to pay my cable bill. They charge $1.25 at the desk and get all snooty if you ask any questions. I mean, Damn! This

is real, dog! What can I do?
Pooky
Yo Pooky
They's got the greedy cause they didn't get they bailout.They also stickin it, cause they know that DTV

is a big ol' pile, ya' know? What can ya' do? Stay tuned, an pay in pennies, dog!

---
SHIZ, YOU


WHY ARE ALL MEN DOGS!
- ISABELLA

Yo Isabella!
Bytchy McBytch, if you over 30 and still ain't found it...
baby, it's you...
---
Hey shiz!!!
Is it true that the wimmins of Beaumont are crazy?
- Joe Bob

Yo Joe Bob.
nope. jus' they boyfriends who foot the bill...
---
Dear Shiz
We have a situation at work that i just do not understand. As we worked during the hurricane (Rita) we where told that we could get back all of our overtime hours back with a few extra vacation days close to the end of the year. Well, here it is in December and we are now told that no one can take hollidays off, and if we go home early on Chistmas Eve, we will have our pay docked. What should we do about this? Management will just not listen to any of us on this issue.
- stressed

Yo Stressed!
Chill wit it... Dis is all like bytchcakes wit that

! First, the managment is tellin' you

to keep you on the da' line and not go all evac and

. It's wrong, but it happens. Next, they all like "cus' we's say so" and put you on the lockdown. That's pretty

'd up, dog. I say take a Jefferson County vacation and slow down the work to a crawl. Make it at least 10 coffee breaks a day and axe them how they like their Christmas bonus. Ayiite?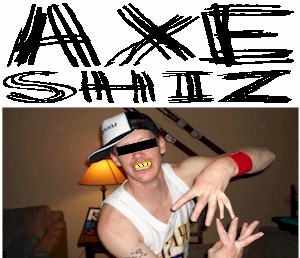 Axe Shiz, is an advice column from M.C. Shiz, Longtime street poet from the Northside of Beaumont. We do not endorse, or support any advice from MC Shiz and all advice is on a per inquirery advice. At any given time, he may or may not know what he is talking about. No animals where harmed in the making of this article...

Thank You &

You

The Management